Explore Our Fernandina Beach, Florida Inn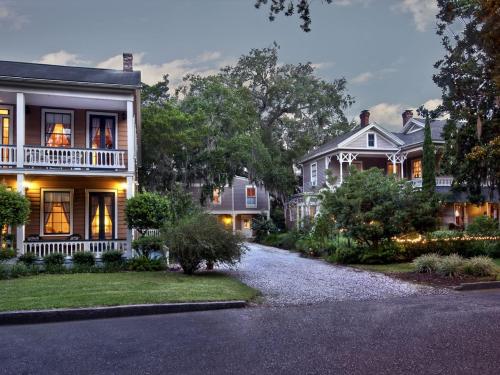 The Amelia Island Williams House is an elegant Bed and Breakfast Inn located in the historic seaside village of Fernandina Beach. Situated in a quiet neighborhood of beautifully restored Victorian homes, our Fernandina Beach, Florida inn is exquisite in its design and has been awarded the distinction of Historical Landmark. 

The estate of the Williams House Bed and Breakfast Inn is comprised of three buildings with 11 guests rooms and 11.5 bathrooms.  The three buildings are:  The Williams House, circa 1856, an Antebellum Mansion owned and occupied for over 100 years by the family of Marcellus and Emma Williams, which offers five elegant guest rooms. Our second building, The Hearthstone House, circa 1884, is a frame vernacular building with Greek Revival influence that was built as a wedding present for their daughter and contains four luxurious guest suites. And lastly, the Carriage House, rebuilt in 2003 on the site of the original carriage house, offers two guest rooms. The property was restored in 1993 and opened as a Fernandina Beach, Florida Inn in 1994. The Williams House has won numerous awards for its excellence in elegance and hospitality.
A Unique Fernandina Beach, Florida Inn Experience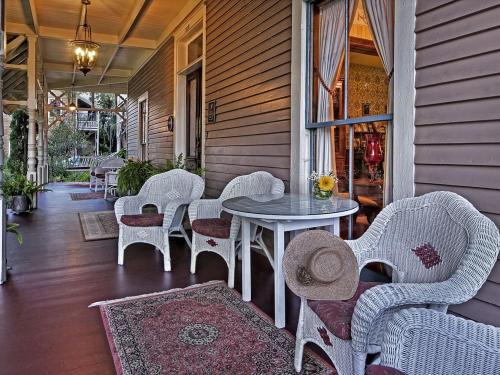 An ornately wrought iron fence topped with gold fleur-de-lis ushers guests into a mansion with a unique gingerbread design by famed New York architect Robert Schuyler. Guests are greeted by beautiful moldings, massive pocket doors of heart pine and mahogany.  Heart pine and mahogany floors and gorgeous hand-carved mantles surround original tiled fireplaces. Crystal chandeliers, stained glass windows, and beautiful furniture remind one of the 1800's and life as it might have been for the Williams family.

The flower gardens, huge Live oak and Magnolia trees, fountains, a koi pond and a wagon wheel rose garden at our Fernandina Beach, Florida inn provide a beautiful and relaxing setting for romantic getaways, weddings, reunions or retreats. Wide two-story sweeping verandas stretch across the fronts on each house to provide space for relaxing, intimate conversation or quiet for reading.

The Inn's eleven guest rooms include elegant furnishings with King or Queen beds and custom bedding which beckon guests to fresh linens and soft pillows. Bathrooms include whirlpool tubs and/or large showers. Spa robes are provided as well as many of the comforts of home. Wonderfully historic, yet completely modern, the Williams House represents the era of its birth and continues the fine traditions of style and ambiance of the finest Bed & Breakfasts in America.